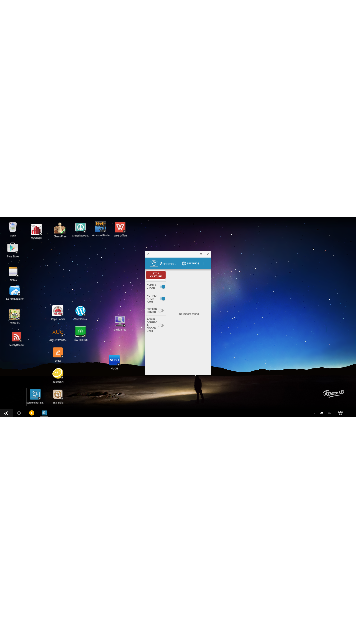 To be honest, this little Remix Mini is the funnest little computer I have ever used! Small enough to fit in my shirt pocket, yet hooked up to a full sized keyboard, mouse, and a 35″ TV. You just can't ask for more than that! Not to mention it was only $55 on Amazon.
In all seriousness, I am super impressed with this little gadget. So far, it has done everything I have asked it to do, and has done it well. Essentially, this is just a cell phone without a screen, put into a little oval black box. The back side has connections for 2 USB devices, an Ethernet port, an SD card slot, speaker jack, an HDMI interface, and a power connector. The best part about it? It comes with an Android operating system: Remix OS 2!
With a "regular" desktop environment, it feels like a computer, but it runs Android 5.1, and can download and use just about any app from the Google Playstore or Aptoide! So far, I have only run into 1 app that I could not use properly (a screen recording app, to which I just grabbed a different one).
One of the main reasons that I got this computer was to use it as a media player for our TV. Just think about it, any streaming service that works on your cell phone, also works right on your television. Vudu, Hulu, Netflix, etc., if there is an app to let you watch it on your cell phone, then it will work here. We actually had a DVD/Blue-Ray player that already does this, but we found a slight issue with it. We have limited internet. Yes, the horror and shock will subside in a minute. We actually have limited high speed interent, and unlimitted low speed internet. This became a problem because streaming a movie takes a lot of bandwidth. What we gained by using the Remix Mini, was the ability to use Android apps that allow you to download the show or movie to your "phone" for offline viewing. In our case, even with slow internet, we can download a show during the day, and watch it later that evening. It also allows us to watch shows multiple time (like cartoons for our children) without having to re-stream the show! So far, it is working great!
With each app, you can choose to operate in full screen or window mode. In window mode, you can resize each window just as you would on a desktop computer. You can minimize apps, use the back button, and do all the normal things you would do with an app. I would note, however, that sometimes the resizing of the window may require exiting an app and then opening it again for full functionality.
The Jide Remix Mini itself has proven to have enough power to watch movies and shows full screen, play a few games, and check emails or create documents. I don't play any high end games, but Rento 3D (a Monopoly like game), Chess, and several games like that have run flawlessly. I also had fun with MechCom and MechCom2, both of which worked great. I paired the unit to my cell phone via Bluetooth, and you can even play a few games that way, like Space Battle – Star Fleet, which worked great as long as it was not full screen.
The only problem that I have had with the unit is the default graphics setting. The default graphics were set to 1280 x 720 @ 60 Hz, which my television did not support. I had to hook the unit up to another TV that did support that resolution, so I could then change the resolution to be 1920 x 1080 @ 50 Hz for my television. Other than that, this thing has worked great!
The Remix Mini is simple to set up and use, as well as an intuitive interface that we are all fairly familiar with. I definately recommend this thing to anyone looking for a low end computer that doesn't act like one. Besides, for $55, how can you go wrong?
Linux – keep it simple.