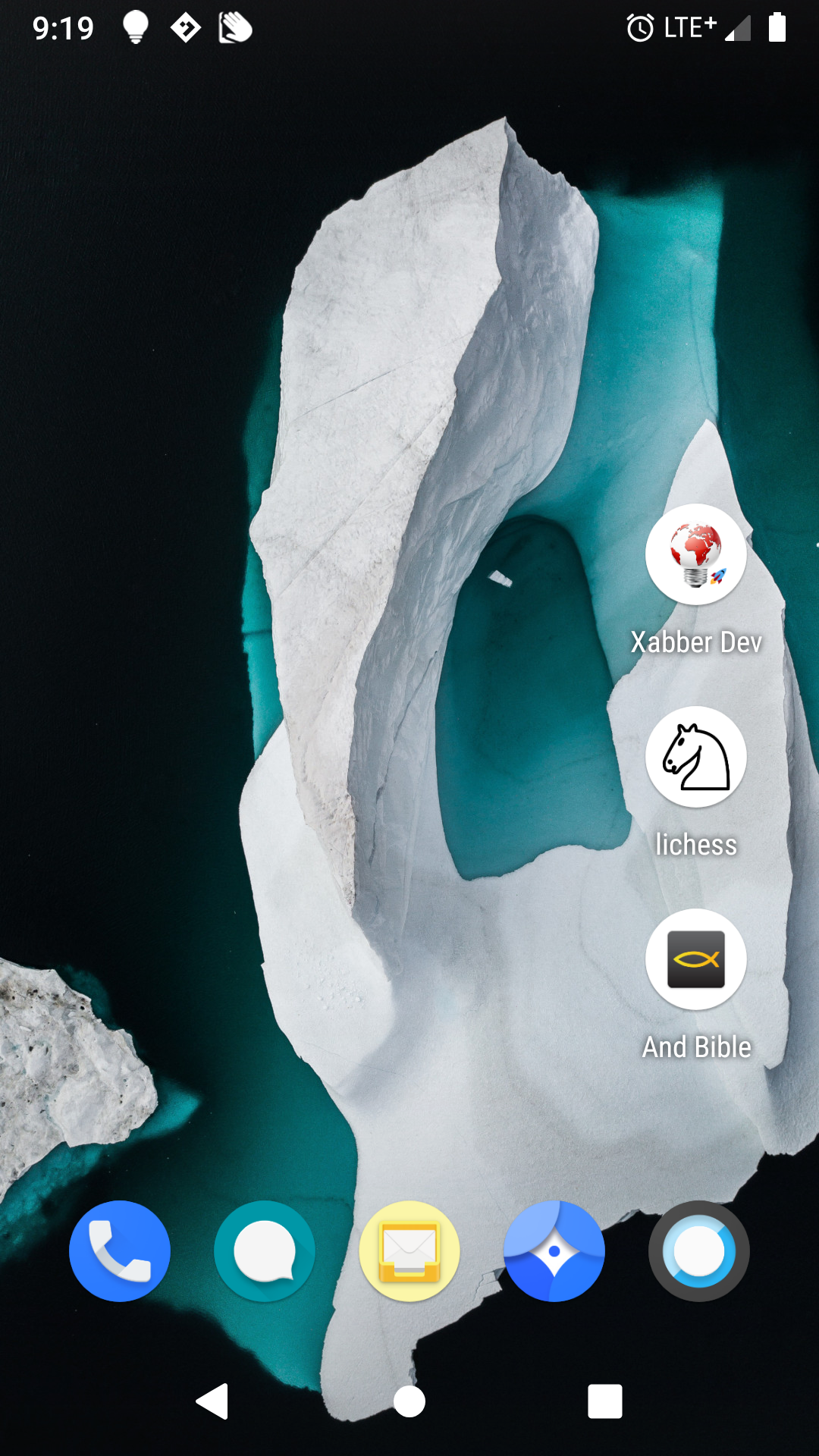 Don't worry, you can put the tinfoil hats away. That being said, I'm going Google App Less (gappless) again. A few years back, I tried to go gappless, and it was rather difficult. Everything seemed to be tied into Google somehow, and I just couldn't make it with the limited number of apps available outside the Google Play Store. This time around, however, is a different story.
With my new Xperia XA2 Ultra, I decided to flash LineageOS 16 (android pie), but I also decided not to flash the Google Apps package (Gapps). So, my phone was complete, without any of Google's apps, such as the Play Store, Gmail, Google Photos, etc. It's not that I distrust Google. I'm just not sure if I trust them. So, I thought I'd see how well it works to go without them for a while.
The truth is: I haven't even noticed they're gone.
The big things that you need to replace though, if you don't have Google's apps, are gmail, app stores, calendar, and photo backup and sharing.
The first thing I did was use the Chromium browser (the open source front runner of Google Chrome, essentially, Chrome without Google's additives), and downloaded F-Droid. This app "store" is a repository of free and open source apps.
I know what you're thinking, but F-Droid has come a long, long way since it's humble beginnings. There are a lot of high quality apps on there now, covering just about every major category. Not only are there tons of apps in it, they are all free and open source. F-Droid even has an update system that makes sure you keep your apps current!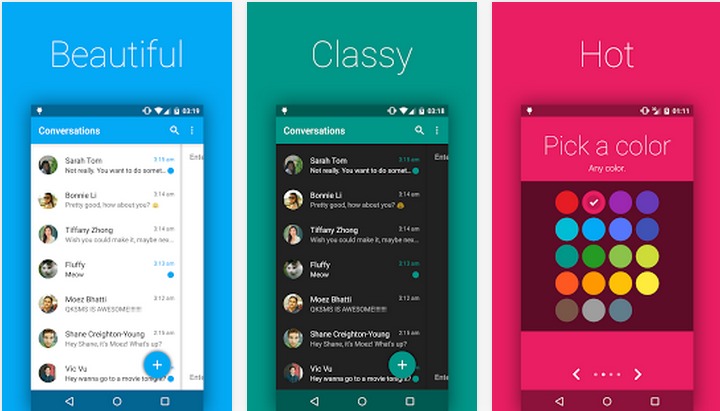 From there I downloaded QKSMS for all of my texting needs. It's one of the best texting apps out there, open or closed source! (I borrowed the above picture so as not to show you all of my contacts….) It's high quality, open source, easy to use and very nice to look at.
I also downloaded Librem Mail to handle all of my emails and replace the Gmail app. It supports multiple accounts, works great with Gmail and other mail accounts (like SDF) and supports PGP encryption as well. I really like it. The color coding and unified inbox is great.
Of course, I also downloaded AndBible, an open source Bible reading app, and FOSS Browser for web surfing, and AsteroidOS's app to sync to my LG Watch Urbane smart watch (running AsteroidOS). A chess clock app, and several games like frozen bubble. Amaze for file browsing, Android CUPS for printing, GetBack GPS and PocketMaps and SatStat for GPS navigation, and a few other odds and ends.
I needed a calendar replacement, and I tried several, but Simple Calendar is my favorite. It can import ".ics" extensions, which you can export from your old Google calendar online and put onto your phone. It's not synced with my Google calendar, but that is what I was trying to avoid anyways. I'd show some pics, but I have a lot of work related things on my calendar that I can't show here. But it supports customization for color. The author likes orange, but I prefer blue, and fortunately you can change the color scheme.
The other big elephant in the room is a replacement for the Google Photo app with unlimited storage, which is really, really hard to beat. This is actually what started my most recent kick to try going gappless, as there is now more information about how they process photos is becoming more interesting and complex. Actually, they were talking about it in 2015 and 2017. For this reason, I set up my own home server running Piwigo photo manager.
I know you probably think I'm crazy, but consider this: on my home server version of Piwigo, without any AI intelligence looking at my photos, each photo comes in with exif data, which can (and usually does) include stats for each photo, date, time, location, phone/camera taken with, aperture data, etc. Without even trying, on the exif data alone, Google *could* know your location, what kind of phone you have, etc.
Even without location enabled, the date/time stamp plus amount of sunlight can narrow down where in the world you are with little effort (I know, I used to navigate a submarine in the Navy, and we would use stars and sun position to double check our navigation equipment). Let alone if they actually look at the photo. They would know all your friends, who you are related to, what you like to eat, what kind of car you drive, etc.
Anyways, off the hobby horse.
So, after installing Piwigo on my home server (you can host them online at BlueHost or other places as well), I then installed a simple app called SyncTool from F-Droid which allows me to FTP sync my phone's camera folder to my home computer. For all of this, you don't actually need something like Piwigo, but it is nice that my wife and I can use the open source app (there are non open source ones too) or a web browser to view our photos or share them with friends.
So far, it's worked out really, really well. Albeit, you would need to be a little more tech savvy to set this up yourself. Fortunately, you could host it places that will help you with that, but then you get back to cloud storage. At least with my home server, I know exactly who's looking at my photos.
On the other hand, all you need is a USB cable to just copy your photos to your computer every now and then. Just saying.
You might be wondering though, what about that closed source app I really need/want? Well, I have a few of those, like Bluino Loader, and arduino tool for using your phone to program arduino devices through the OTG cable. Well, it's not open source, and not in the F-droid repository. Fortunately for me, though, there is Aptoide.
Aptoide comes in two variants, full and lite. I use the "lite" version myself. It uses less bandwidth and works faster, in my opinion. Aptoide is a Google Play Store alternative. The apps in this store are scanned with several virus scanners to ensure a good clean product. I've never had any issues with it myself.
For the most part, with a few exceptions, any non-paid app you can find on the Play Store seems to be here in Aptoide. It seems like they download the latest versions from the Play Store and host them here. Users can also make their own app store to host their own apps. (I did that once before… probably an old post about it on here somewhere.)
It has an update function, and you can also search back for old versions of the software, which is handy, like going back to the version before they started putting adds in! I'm not sure if it is regulated quite as well as the Play Store, and certainly not as well as F-Droid, so be careful to make sure the file scans virus free.
Another alternative is Amazon's app store, which hosts all the usual paid apps you might need. One thing to keep in mind, though, is many apps require Google's services running in the background to work. Thus far, I haven't had a single issue with any of the apps I installed, though, which you can see is quite a few of them. Maybe you should try going gappless….
Linux – keep it simple.