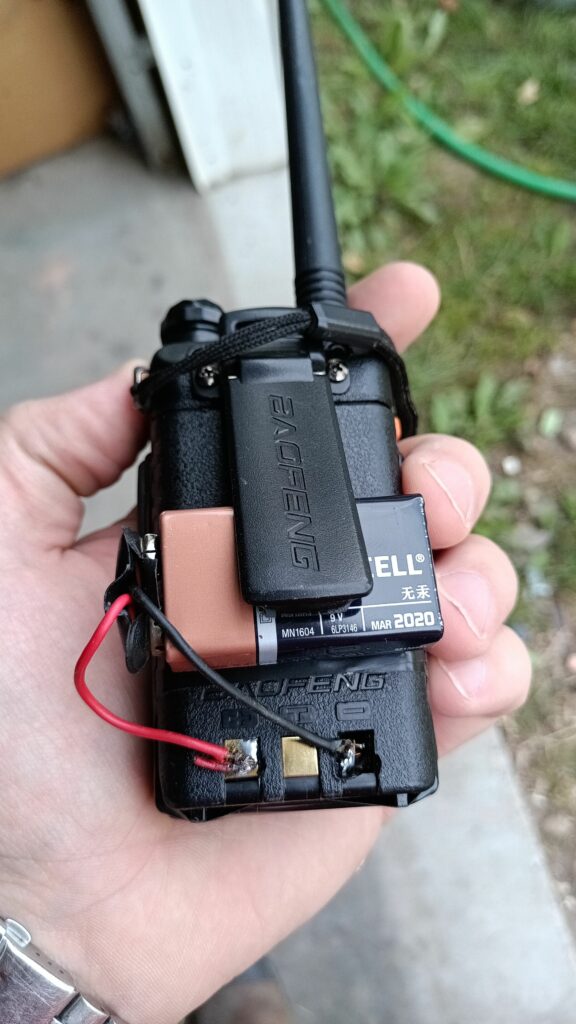 This Baofeng UV-5R was the first radio I ever purchased after getting my license. Actually, it was just plain the first ham related radio I ever purchased. But, it didn't last long, within a year the unit quit working. I realized that it just needed a new rechargeable battery, but other radios had come into the picture, so this one just sat in a drawer.
Until today.
According to the base charging station, it uses 8.4 volts of DC to charge. Probably means it has an 8 volt battery. So, I decided I'd try my luck with a typical 9 volt battery. I didn't want to ruin the hand held radio, so I decided to mutilate the already bad battery pack.
I cut open the battery pack with an angle grinder…. Like I said, I mutilated it. I then removed the battery guts, and used the shell to house wires going from the outside charging lugs on the bottom to the inside battery connection to the radio.
Then I soldered on a 9 volt plug to the outside posts for charging, and connected a standard 9 volt battery. Sure enough, it works! So far I have been able to talk and receive on a local repeater, listen to a local radio station, and use the flashlight function.
The only thing that seems a bit wonky is the battery icon on the display, it constantly changes to different amounts of charge. I will have to do a run time test, but it seems to work fairly well for now. It even can fit in its old base station for a handy holder! And, its pretty easy to find spare batteries at any convenience store!
Linux – keep it simple.